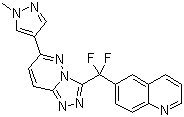 Name: JNJ-38877605
CAS#: 943540-75-8
Chemical Formula: C19H13F2N7
Exact Mass: 377.12005
Molecular Weight: 377.35023
Description: JNJ-38877605 is an orally bioavailable, small-molecule receptor tyrosine kinase inhibitor with potential antineoplastic activity. c-Met inhibitor JNJ-38877605 selectively inhibits c-Met (mesenchymal-epithelial transition), a receptor tyrosine kinase (RTK) involved in cancer cell survival and invasiveness, and tumor angiogenesis. c-Met is also known as hepatocyte growth factor receptor (HGFR).