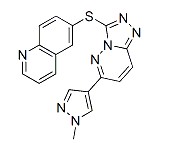 Name: SGX-523
CAS#: 1022150-57-7
Chemical Formula: C18H13N7S
Exact Mass: 359.09531
Molecular Weight: 359.41
Elemental Analysis: C, 60.15; H, 3.65; N, 27.28; S, 8.92
Description: SGX523 is a novel, ATP-competitive kinase inhibitor remarkable for its exquisite selectivity for MET. SGX523 potently inhibited MET with an IC50 of 4 nmol/L and is >1,000-fold selective versus the >200-fold selectivity of other protein kinases tested in biochemical assays. Crystallographic study revealed that SGX523 stabilizes MET in a unique inactive conformation that is inaccessible to other protein kinases, suggesting an explanation for the selectivity. SGX523 inhibited MET-mediated signaling, cell proliferation, and cell migration at nanomolar concentrations but had no effect on signaling dependent on other protein kinases, including the closely related RON, even at micromolar concentrations.