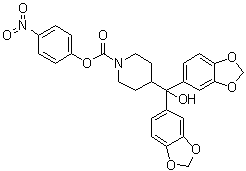 Name: JZL184
CAS#: 1101854-58-3
Chemical Formula: C27H24N2O9
Exact Mass: 520.1482
Molecular Weight: 520.49
Elemental Analysis: C, 62.30; H, 4.65; N, 5.38; O, 27.67Description:
JZL 184 is a potent and selective inhibitor of MAGL with IC50 of 8 nM and 4 μM for inhibition of MAGL and FAAH in mouse brain membranes respectively. IC50 value: 8 nM Target: MAGL inhibitor in vitro: JZL184 prolongs DSE in Purkinje neurons in cerebellar slices and DSI in CA1 pyramidal neurons in hippocampal slices. JZL184 is more potent in inhibiting mouse MAGL than rat MAGL. in vivo: When administered to mice at 16 mg/kg, intraperitoneally, JZL 184 reduces MAGL activity by 85%, elevates brain 2-AG levels by 8-fold, and elicits analgesic activity in a variety of pain assays that qualitatively mimics direct central cannabinoid (CB1) agonists [1]. Acute administration of JZL184 to FAAH(-/-) mice enhanced the magnitude of a subset of cannabimimetic responses, repeated JZL184 treatment led to tolerance to its antinociceptive effects, cross-tolerance to the pharmacological effects of Δ(9)-tetrahydrocannabinol, decreases in CB1 receptor agonist-stimulated guanosine 5′-O-(3-[(35)S]thio)triphosphate binding, and dependence as indicated by rimonabant-precipitated withdrawal behaviors, regardless of genotype.