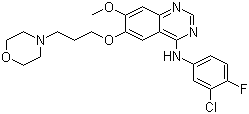 Name: Gefitinib
CAS#: 184475-35-2
Chemical Formula: C22H24ClFN4O3
Exact Mass: 446.1521
Molecular Weight: 446.9
Elemental Analysis: C, 59.13; H, 5.41; Cl, 7.93; F, 4.25; N, 12.54; O, 10.74
Description: Gefitinib, also known as ZD1839, is an anilinoquinazoline with antineoplastic activity. Gefitinib inhibits the catalytic activity of numerous tyrosine kinases including the epidermal growth factor receptor (EGFR), which may result in inhibition of tyrosine kinase-dependent tumor growth. Specifically, this agent competes with the binding of ATP to the tyrosine kinase domain of EGFR, thereby inhibiting receptor autophosphorylation and resulting in inhibition of signal transduction. Gefitinib may also induce cell cycle arrest and inhibit angiogenesis. It is marketed by AstraZeneca and Teva.